Tolman Motorsport commissioned Leveridge Promotions to provide comprehensive PR and marketing support for both its modern and historic motorsport and restoration businesses. Read on to learn more about their business and how we can help you.
Tolman Motorsport is a pioneering engineering company that had an established presence in what is perhaps the world's most premier domestic sportscar racing category, the British GT Championship.
From its Warwickshire headquarters, situated in the heart of the UK's world-famous 'Motorsport Valley', Tolman ran a Bentley Continental GT3 in the final round of the 2021 British GT Championship, having previously been responsible for advancing the official McLaren Automotive Driver Development Programme (DDP).
In tandem with its British GT commitments, Tolman Motorsport operates a rich historic racing programme, which is neatly complemented by comprehensive and diverse engineering and restoration capabilities.
Tolman's engineering operation employs state-of-the-art techniques and technology to conduct full concourse-standard rebuilds, restorations and re-creations of both modern and historic road and race cars, while also providing a full race car preparation and development service that includes event management and professional driver coaching.
This high-level craftsmanship extends to the design and manufacture of bespoke car parts and components, but Tolman Motorsport's unwavering dedication to engineering perfection also translates to success on the racetrack.
In2Racing utilised Leveridge Promotions' graphic design and copywriting expertise for the production of high-quality marketing materials, including prospectuses that beautifully illustrate the team's racing and engineering capabilities in the most professional manner.
For more than three decades, In2Racing has established a track record for delivering expert, independent and highly effective motorsport support services to both professional and amateur racing drivers in a wide array of categories, including the British GT Championship, Asian Le Mans Series and Porsche Carrera Cup Great Britain.
From its bespoke motorsport facility in Stratford-upon-Avon, England, In2Racing's skilled team of engineers and technicians operate to the highest standards with leadership from former Champion racer Nick Dudfield.
A winner by nature, Nick's 25 years in karting and car racing against the likes of David Coulthard and Dario Franchitti, have not only given him a deep understanding of what drivers need, but a determination to ensure his customers enjoy success on the track.
Pioneer79 Swimming Club employed Leveridge Promotions to expand its reach and engagement across the North West of England through a persistent media and social media campaign. Read on to learn more about the club and how we we can help you.
Pioneer79 is a competitive swim club based in Accrington and Blackburn that has approximately 600 swimmers, from Learn To Swim (LTS) right through to international competitors.
The club's aim is to be competitive in county, regional and national-level leagues, with an emphasis on technique over strength and power, to allow swimmers to reach their full potential.
Pioneer79's esteemed professional coaches take swimmers from the age of four and the focus is on #DevelopingWinners from the outset, taking young swimmers through to its competition-level Training Groups.
Leveridge Promotions served Jetstream Motorsport and Graham Davidson with comprehensive PR, marketing and sponsorship activation support during the Aston Martin Racing Partner Team's attack on the 2018 British GT Championship.
Jetstream Motorsport graduated to the British GT grid with a sole Aston Martin V12 Vantage GT3 for former GT Cup Champion Davidson and Aston Martin Racing works driver, Maxime Martin.
The fledgling outfit made an immediate impact, producing giant-killing performances and securing race wins, podium finishes and 'Driver of the Weekend' awards during a lucrative maiden campaign in what is arguably the world's premier domestic sportscar category.
Alex Reed commissioned Leveridge Promotions to raise his media profile for the entirety of 2017, when he and teammate David Pittard fought for British GT title honours with a Lanan Racing Ginetta G55 GT4.
Reed from Horsham in West Sussex shone in what is widely regarded as the world's premier national GT category.
The teenage hotshot was judged by the UK's most prestigious motorsport media titles to be the top GT4 driver of 2016, and he duly remained in contention for the British GT4 crown until the final throes of the 2017 season by regularly notching up race wins and podium finishes.
Paddock Life touches every aspect of motorsport, automotive and luxury lifestyle the World over.
It strives to be the number one global lifestyle community – with motorsport and a love of all things automotive the common theme and launchpad for sharing the good life with like-minded members.
In a feature entitled 'Are You on The List?', Leveridge Promotions gave the Paddock Life readership a full and immersive review of Amber Lounge Singapore – the ultimate and most extravagant Formula 1 after-party and the epitome of high-end luxury entertainment, synonymous with Monte Carlo-inspired glamour and its cachet with the jet-set.
Race Us There is a fresh and engaging online portal for motorsport travel guides and behind-the-scenes content that launched in 2017.
While there are many high-octane travel guides floating around the internet, Race Us There is unique for covering many racing categories and providing advice for every budget, from fans who enjoy the rawness of trackside camping to those who prefer a champagne-soaked stay in a five-star luxury resort with the finest at-circuit hospitality.
Leveridge Promotions provided Race Us There with editorial support, and the first assignment involved painting a complete picture of all on and off-track activities for the 2017 Formula 1 British Grand Prix at Silverstone, as well as the F1 Singapore Grand Prix night race.
Latest News
About Our Other Clients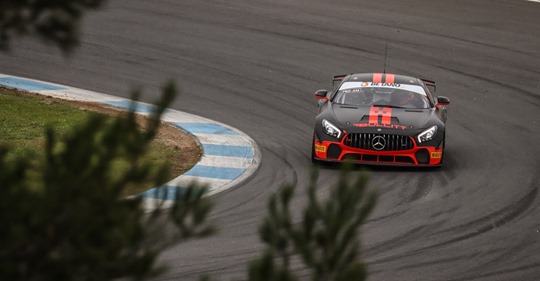 Bullitt Racing achieved a hattrick of outright podium finishes in the final round of the 2019 GT4 South ...