Freddie Hunt made use of Leveridge Promotions' copywriting and analytics expertise for the production of high-quality marketing materials, including a glossy sponsorship proposal for his planned assault on the 2021 Michelin Le Mans Cup 'Road to Le Mans', which held a coveted spot on the support bill for the 24 Hours of Le Mans.
Freddie, the son of 1976 Formula 1 World Champion James Hunt, began carving out a motor racing career of his own in 2007, with Formula Ford GB and ADAC Formula Masters campaigns preceding appearances in a wide array of single-seater, one-make 'tin-top' and endurance sportscar categories.
Between 2014 and 2018, Freddie dabbled in various forms of motorsport, including the Renault UK Clio Cup, Pirelli World Challenge and NASCAR Euro Series.
Notably, an assault on the 2017 24H Series yielded a race win at Circuit of the Americas, and that result was followed by a highly successful LMP3 debut in the VdeV Endurance Series at Circuito do Estoril, where he finished second in class and sixth overall.
However, in 2019, Freddie joined RLR MSport to take on the Michelin Le Mans Cup's blue riband 'Road to Le Mans' fixture, which runs in support of the 24 Hours of Le Mans, and, in a mission to keep the Hunt legacy alive, he returned to the series for a one-off appearance in 2021.
Latest News
About Freddie Hunt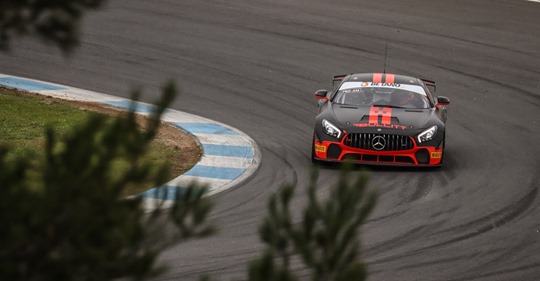 Bullitt Racing achieved a hattrick of outright podium finishes in the final round of the 2019 GT4 South ...